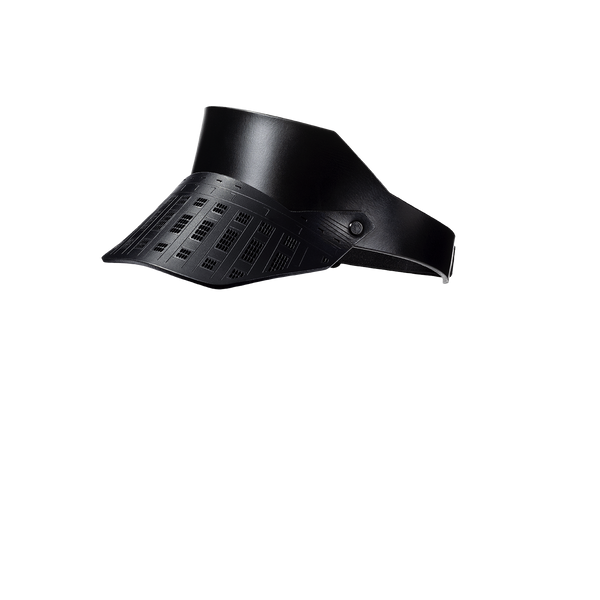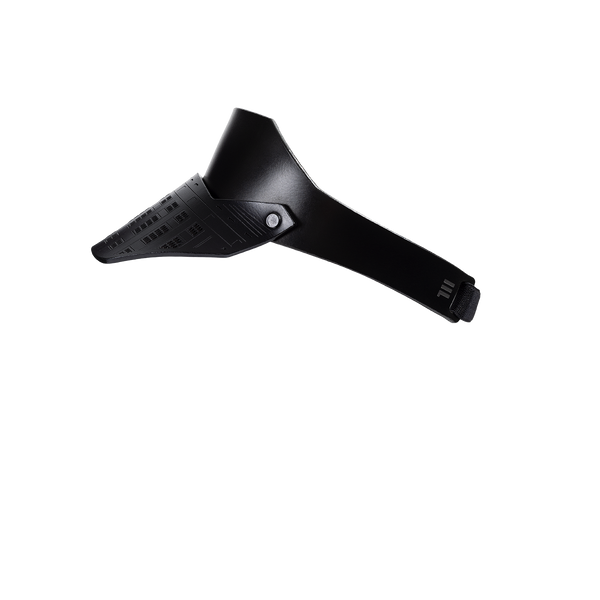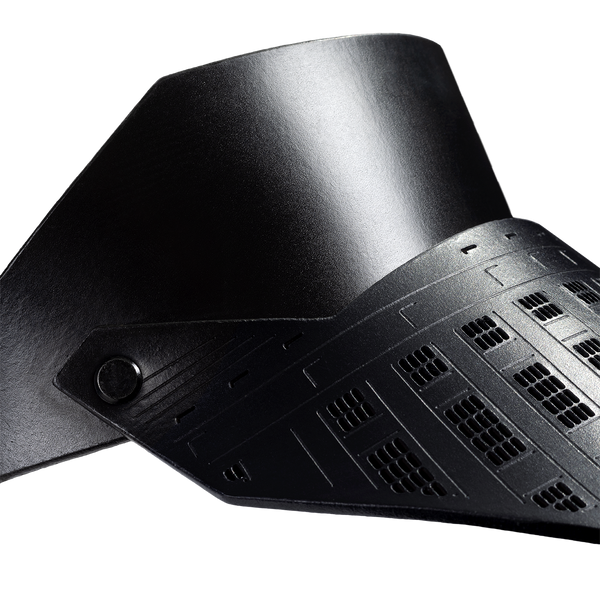 description
Today, ...definitely! Uni, not que.
With you, Heinz, I see the world differently. Noise from the streets of Neukölln? All Pankow, if you wear me. Sleepless nights? All a beautiful dream when you move with me.

The monument and the church of club culture. An elaborate visor, decorated with laser engraving. Easy to adjust with two metal screws on the side. Made of black saddle leather. Made for the moment before the morning. Made with attention to detail in our Berlin studio.
DETAILS

Color
- Black
Material
- 100 % saddle leather from cattle (from sustainable EU production)
- Screws made of stainless metal (nickel-free, suitable for allergics)
- Closure made of woven elastic (50 % nylon, 35 % spandex, 15 % polyester)
Coloring
- The leather is vegetable tanned, suitable for allergics
- Adjustable plastic slider
Finishing
- Ground and polished edges
- Finishing with high quality lanolin, avocado oil and beeswax, which have a water repellent effect.
Dimensions
- Visor length 8 cm
- Head height 7 cm
Manufacture
- Handcrafted in Berlin
Note
- Leather as a natural material (with irregular surface structure, pores and scars) gives our products their unique look, which may vary minimally from the product image.
ㅤㅤㅤㅤㅤㅤㅤㅤㅤㅤㅤㅤㅤㅤㅤㅤㅤㅤㅤㅤㅤㅤㅤㅤㅤㅤㅤㅤㅤㅤㅤㅤㅤㅤㅤㅤㅤㅤㅤㅤㅤㅤㅤㅤㅤㅤㅤㅤㅤㅤㅤㅤㅤㅤㅤㅤㅤㅤㅤㅤㅤㅤㅤㅤㅤㅤㅤㅤㅤㅤㅤㅤㅤㅤㅤㅤㅤㅤㅤㅤㅤㅤㅤㅤㅤㅤㅤㅤㅤㅤㅤㅤㅤㅤㅤㅤㅤㅤㅤㅤㅤㅤㅤㅤㅤㅤㅤㅤㅤㅤㅤㅤㅤㅤㅤㅤㅤㅤㅤㅤㅤㅤㅤㅤㅤㅤㅤㅤㅤㅤㅤㅤㅤㅤㅤㅤㅤㅤㅤㅤㅤㅤㅤㅤㅤㅤㅤㅤㅤㅤㅤㅤㅤㅤㅤㅤㅤㅤㅤㅤㅤㅤㅤㅤㅤㅤㅤㅤㅤㅤㅤㅤㅤㅤㅤㅤㅤㅤㅤㅤㅤㅤㅤㅤㅤㅤㅤㅤㅤㅤㅤㅤㅤㅤㅤㅤㅤㅤㅤㅤㅤㅤㅤㅤㅤㅤㅤㅤㅤㅤㅤㅤㅤㅤㅤㅤㅤㅤㅤㅤㅤㅤㅤㅤㅤㅤㅤㅤㅤㅤㅤㅤㅤㅤㅤㅤㅤㅤㅤㅤㅤㅤㅤㅤㅤㅤㅤㅤㅤㅤㅤㅤㅤㅤㅤㅤㅤㅤㅤㅤㅤㅤㅤㅤㅤㅤㅤㅤㅤㅤㅤㅤㅤㅤㅤㅤㅤㅤㅤㅤㅤㅤㅤㅤㅤㅤㅤㅤㅤㅤㅤㅤㅤㅤㅤㅤㅤㅤㅤㅤㅤㅤㅤㅤㅤㅤㅤㅤㅤㅤㅤㅤㅤㅤㅤㅤㅤㅤㅤㅤㅤㅤㅤㅤㅤㅤㅤㅤㅤㅤㅤㅤㅤㅤㅤㅤㅤㅤㅤ
das könnte dich auch Interessieren