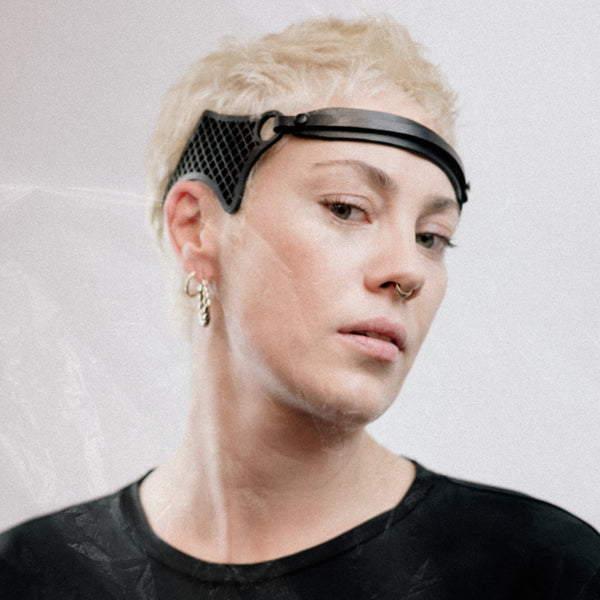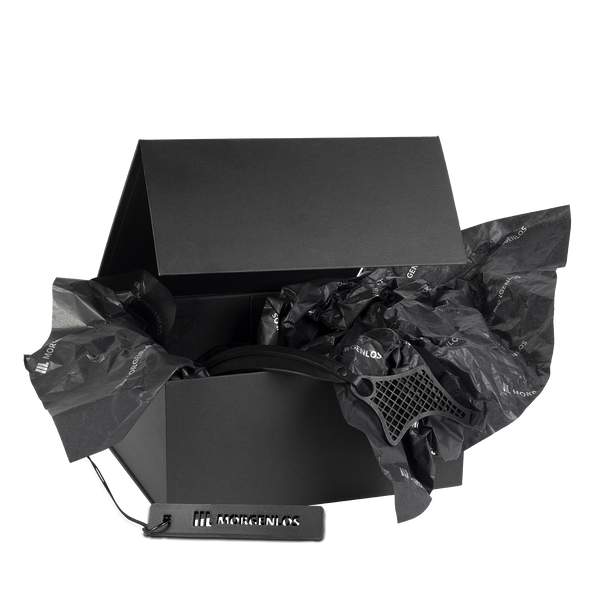 description
Bound to the night. Defiant to the morning.

"Emma, you beauty! Already on the very first night, our friendship has awakened. For hours, we laughed, danced and simply thought of nothing. Full of passion until well past midnight.

Our headband ""Emma"" puts the crown on this very night. Dark elegance made of black leather, with elaborately hand-finished edges. This headband is designed to be reversed. Wear the laser cut wing elements pointing up or down. Depending on your mood, your Emma will participate in all games."
DETAILS
Color
- Black
Material
- 100% cow saddle leather (from sustainable EU production).
- Woven elastic closure (50% nylon, 35% spandex, 15% polyester)
- Adjustable plastic slider
- Steel double head rivets, black
Coloring
- The leather is a vegetable tanned, suitable for allergics
Finishing
- Ground and polished edges
- Finishing with high quality lanolin, avocado oil and beeswax, which have a water repellent effect.
Dimensions
- Total length 38 cm in height 2.5cm
Manufacture
- Handcrafted in Berlin
Note
- Leather as a natural material (with irregular surface structure, pores and scars) gives our products their unique look, which may vary minimally from the product image.
ㅤㅤㅤㅤㅤㅤㅤㅤㅤㅤㅤㅤㅤㅤㅤㅤㅤㅤㅤㅤㅤㅤㅤㅤㅤㅤㅤㅤㅤㅤㅤㅤㅤㅤㅤㅤㅤㅤㅤㅤㅤㅤㅤㅤㅤㅤㅤㅤㅤㅤㅤㅤㅤㅤㅤㅤㅤㅤㅤㅤㅤㅤㅤㅤㅤㅤㅤㅤㅤㅤㅤㅤㅤㅤㅤㅤㅤㅤㅤㅤㅤㅤㅤㅤㅤㅤㅤㅤㅤㅤㅤㅤㅤㅤㅤㅤㅤㅤㅤㅤㅤㅤㅤㅤㅤㅤㅤㅤㅤㅤㅤㅤㅤㅤㅤㅤㅤㅤㅤㅤㅤㅤㅤㅤㅤㅤㅤㅤㅤㅤㅤㅤㅤㅤㅤㅤㅤㅤㅤㅤㅤㅤㅤㅤㅤㅤㅤㅤㅤㅤㅤㅤㅤㅤㅤㅤㅤㅤㅤㅤㅤㅤㅤㅤㅤㅤㅤㅤㅤㅤㅤㅤㅤㅤㅤㅤㅤㅤㅤㅤㅤㅤㅤㅤㅤㅤㅤㅤㅤㅤㅤㅤㅤㅤㅤㅤㅤㅤㅤㅤㅤㅤㅤㅤㅤㅤㅤㅤㅤㅤㅤㅤㅤㅤㅤㅤㅤㅤㅤㅤㅤㅤㅤㅤㅤㅤㅤㅤㅤㅤㅤㅤㅤㅤㅤㅤㅤㅤㅤㅤㅤㅤㅤㅤㅤㅤㅤㅤㅤㅤㅤㅤㅤㅤㅤㅤㅤㅤㅤㅤㅤㅤㅤㅤㅤㅤㅤㅤㅤㅤㅤㅤㅤㅤㅤㅤㅤㅤㅤㅤㅤㅤㅤㅤㅤㅤㅤㅤㅤㅤㅤㅤㅤㅤㅤㅤㅤㅤㅤㅤㅤㅤㅤㅤㅤㅤㅤㅤㅤㅤㅤㅤㅤㅤㅤㅤㅤㅤㅤㅤㅤㅤㅤㅤㅤㅤㅤㅤㅤㅤㅤㅤㅤㅤㅤㅤㅤㅤㅤ
das könnte dich auch Interessieren